Preserving Our Heritage Summit: Catholic Archives in Western Pennsylvania
Saturday, March 25, 2023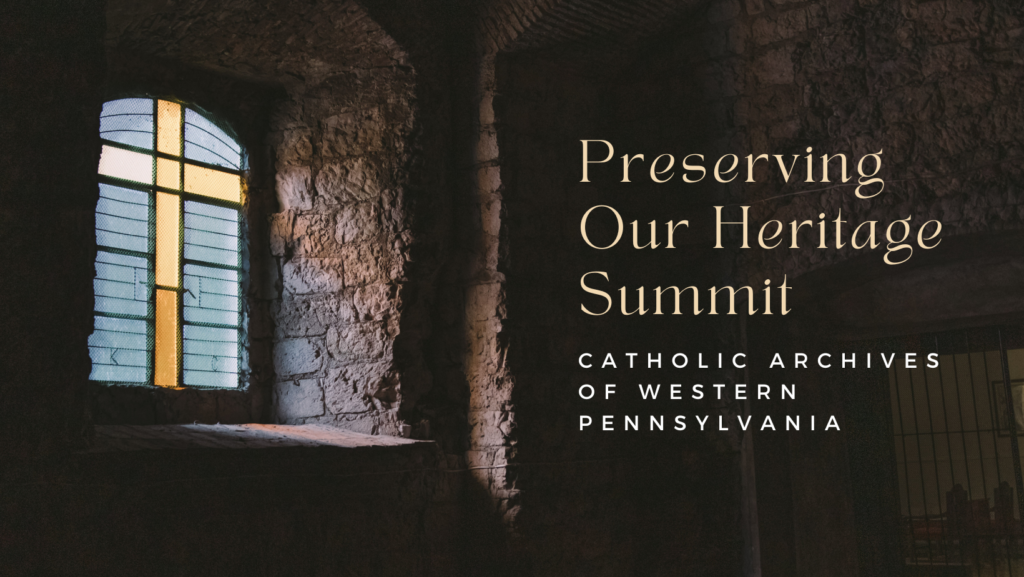 Dear archivists and Catholic leaders,
You are invited to join us for the Preserving Our Heritage Summit at Duquesne University on Saturday, March 25, 2023 from 9:30 AM – 1 PM.
Who is invited?
Archivists and leaders of Catholic dioceses of Western Pennsylvania, religious congregations, lay organizations, and universities.
What will we discuss?
This will be a facilitated discussion to establish collaborative efforts with respect to Catholic archives in our region.
Facilitator
David Grinnell, Coordinator of Archives and Manuscripts, University of Pittsburgh
How do I sign up? Who can answer questions?
Registration is $10, which includes a continental breakfast, lunch, and parking. You can register online. For questions or more information, contact the Catholic Historical Society of Western Pennsylvania at info@chswpa.org.
Schedule
Duquesne University's Chapel of the Holy Spirit
8:00AM – 8:30AM Please join us at the optional opening Mass
Duquesne University's Student Union Room 613
8:30AM – 9:30AM Registration and continental breakfast
9:30AM – 1:00PM Facilitated discussion
1:00PM Lunch
Who is sponsoring the event?
This event is being sponsored by Duquesne University (Depts. of Catholic Studies and History and the Gumberg Library), the Catholic Historical Society of Western Pennsylvania, the Sisters of St. Joseph of Baden, Carlow University, and National Institute for Newman Studies.